Measuring gains in social-emotional competency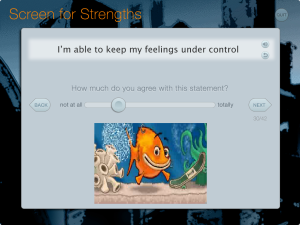 Screen for Strengths is a set of digital screening tools, with an accompanying reports,  designed to measure seven social-emotional attributes associated with resiliency, pro-social behavior and school success. The seven attributes are:
Self-efficacy
Impulse control
Emotional regulation
Assertiveness
Empathy
Connection to community
Decision-making skills
These easy-to-use tools meet the needs of schools to provide objective, quantifiable data about the development of non-academic, often culturally contingent, "intangible" assets. They were designed to:
Aid adults in directing students to appropriate Tier 2 and Tier 3 interventions
Provide a pre- to post-intervention measure of skill gains from a variety of interventions
Enable schools to meet documentation requirements of funders and policy makers
Reduce legal exposure due to subjective, culturally biased assessment
One version of the screening tool is a 42-item combined survey. The seven, six-item scales which comprise the overall scale are also included separately in the same application. The tools can help:
Identify areas ripe for personal growth
Personalize intervention delivery
Measure targeted growth over time
Although inspired by and parallel to validated scales in the public domain, these are not refined psychological assessment tools. Indeed, if they were, they could not be used with children without parental consent. Rather they are more like foot-size measuring devices found in most shoe stores. The measurements they offer allow most people, most of the time, to get a good sense of what shoes (or in this case, social-emotional-behavioral intervention) would be the best fit for them. They differ from other social-emotional assessment tools in these ways:
They are delivered via a digital device, either personal computer or tablet, not pencil and paper.
They aren't contingent on reading competency. All instructions and statements are narrated by peers within the program. No adult is directly involved in completion of the surveys.
They use a 10 point slider scale, rather than four or five choice-points, to register more nuanced self-perception.
Language and some contextual references have been adapted, or newly created, to be more culturally inclusive and more accessible to today's learners.
To encourage completion of the entire set of questions, a game-like animation unfolds as each question is answered, with a surprise ending.
Student responses are automatically recorded for each item.
Scores are immediately available in simple-to-understand, graphically appealing tables. Summary scores are presented by category. Each category can be expanded to see individual item scores, with test/retest scores for each student displayed chronologically.
Screen for Strengths can be used with universal (Tier 1) interventions to measure pre- to post-intervention skill gains in core social-emotional competencies, or with Tier 2 and Tier 3 interventions within PBIS frameworks to measure gains in specific areas targeted for personal growth. Ripple Effects Whole Spectrum Intervention System provides trauma-informed, personalized Tier 2 and Tier 3 interventions in dozens of areas. These tools were designed to complement that system, as well as to supplement other programs.
Privacy issues are discussed forthrightly. Students are notified at the beginning of the program how and why their answers can be accessed by authorized adults (and only authorized adults). Clinical experience has shown that even when students know an authority figure will see their answers, they are more likely to be forthright with the computer than with a live interviewer. Schools are encouraged to remind students of their right to opt out of answering these questions.
The pen and paper scales to which these tools can be compared include:
Patterns of Adaptive Learning Scales (SfS: Academic self-efficacy)
Self-Control. Tangney, Baumeister, & Boone (2004. (SfS: Impulse control)
Emotional Regulation  IYDS (originally from Prior et al, 2000) (SfS: Managing feelings)
International Personality Item Pool. alpha= .79 (SfS: Empathy)
Social Belonging  Bollen & Hoyle, 1990. (SfS: Connectedness)
Botvin Life Skills Training Pre/Post (Middle School-2007) (SfS: Assertiveness)
Social Competence SAYO-Y. alpha = .81 (SfS: Connectedness)
Decision Making. Social Development Research Group. (SfS: Decision Making)
The above scales were used as reference points because they meet three criteria:
Their validity has been demonstrated as a measure of one of seven key personal attributes independently correlated with school success.
Individual items can be matched to specific behavior that evidence-based interventions, including Ripple Effects, are designed to impact.
The original scales are in the public domain, and/or permission was easily gained to adapt them, and/or use them as reference points.