Science-based, practical measurement tools
Ripple Effects Assessment Tools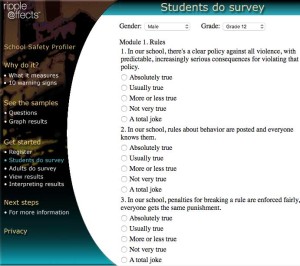 Ripple Effects offers electronic and print tools for assessing social-emotional-behavioral
need, progress, intervention compliance, dosage and outcomes at group and individual levels. They are science-based and practical — more like foot size measurement devices than diagnostic medical tests. Most people, most of the time, can use them easily to find out their "size" so they can choose the intervention "shoe" that fits both their preferred style (of learning) and their specific needs.
Pre-intervention Assessment Tools
Ripple Effects pre-intervention assessment tools include:
Tools to assess school safety and culture

Tools to assess school level readiness to implement (strengths, constraints, challenges)

Tools to screen for social emotional strengths (students & staff)

Tools for observational and functional behavioral assessment in particular, as part of RTI planning

Tools to assess teaching and learning self-efficacy

Tools for assessment of concept mastery

Tools designed only to deepen self-understanding
Post-intervention Assessment Tools
The goal of post-intervention assessment is to measure progress, establish a baseline for the next stage of learning and evaluate whether an intervention worked. To help with this assessment, Ripple Effects offers tools for formative, process, and proximal data collection, and for easy correlation of these elements with distal outcomes.
Ripple Effects Post Intervention tools answer these questions
Did they do it? Adherence and dosage measures

Did they like it? Assessment of user experience

Did they learn? Assessment of concept mastery

Did it work? Quantitative proximal assessment Journal portfolio: Qualitative proximal assessment

Did it matter? Distal impact on performance