Ripple Effects for Staff is a digital professional learning program. It provides "just in time" professional development for teachers, counselors and other school personnel. This program trains staff on classroom leadership, management of diversity and diverse learners and implementation best practices for evidence-based programs. It provides a computerized method to scale and sustain effective interventions for all students year after year.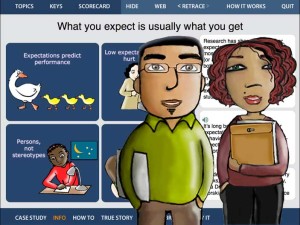 How it works
The program is comprised of 136 multi-media tutorials organized into three modules. Using any of the three modules, trainers can lead implementers through a pre-determined scope and sequence; individual professional staff can use it on their own to get up and get going fast or to find quick solutions to immediate concerns.
Module I: Keys to Strengthening Your Leadership 
This module in Ripple Effects for Staff promotes leadership through personal transformation. Personal leadership has been identified time and again as a critically important factor in program success. It is more important to teacher success than IQ and content expertise combined. Ripple Effects for Staff emphasizes development of five core social-emotional abilities. These "Keys" are the same success-making abilities that students can learn in Ripple Effects for Teens and Kids.
48 tutorials/12 contact hours.
Module II: Managing Diverse Learners
Most educators today teach in a different world from the one they grew up in. Their students are ethnically, socially, economically and religiously diverse. They're also diverse in how they learn best, and in the variety of strengths, aptitudes and limitations they bring to the learning experience.
Module II responds to modern educators' needs, addressing underlying issues that often affect teachers' expectations and perceptions of student performance. It takes implementer training to the next level, enabling educators to tease out learning issues such as behavior, cultural, and health issues, and to address each of them with a combination of technical skill and emotional intelligence. It promotes a deeper and more nuanced appreciation of every student, something vitally important not only for effective social programming, but for effective teaching at every level, in every discipline.
29 tutorials/7 contact hours.
Module III: Making Programs Work
Module III coaches implementers in how to make Ripple Effects' student skill training software and other evidence-based prevention/intervention programs work.
This module has an introduction and four distinct units:
Preparing the Way (including creating a site-specific plan)

Facilitating Effectively

Measuring Results

Scaling and Sustaining (with an emphasis on leveraging technology, especiallyRipple Effects software)
57 interactive tutorials/14 contact hours
Why it works
In the face of formidable challenges, more and more educational organizations require staff to develop social-emotional skills and deliver programs that teach those skills to their students. Social-emotional competency is highly correlated with student safety, health, academic and social success. It is more tied to educators' success than content proficiency.
Try it: order a risk-free 30 day preview of the full program.