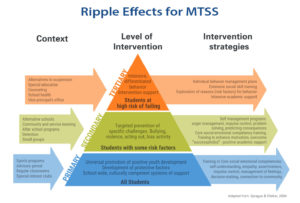 Using Ripple Effects for behavioral RTI/MTSS is easy, efficient and effective
Identify a starting point: a specific barrier that can be flipped into a goal. 

Discipline infractions are often the starting point for levels 2 and 3.

Direct students to the learning style tutorial first. 

Understanding how they learn most easily is usually students' best first step toward success with social-emotional, as well as academic, learning.

Assign a topic that matches the behavioral concern you have identified. 

Social skill deficits and 95% of school-based infractions are included. Each multimedia tutorial automatically leads to training in a relevant set of best practices, usually cognitive-behavioral strategies, for addressing that problem.

Invite students to scroll down the topics and see if they can find an underlying reason. 

Trust their instincts to find what they need. Often after using the program, students will disclose the underlying problem. Meanwhile, respect their privacy. Don't hover or over direct.

End with building a strength. 

Five core social-emotional abilities are broken down into 100 Lego™like, skill-building tutorials. Let students put together a set that matches their personal goal.

Check for content mastery. 

Use the student tracking system to confirm students have completed interactive parts.

Measure outcomes. 

Export Ripple Effects dosage data to correlate outcomes with student information system and/or pre-to-post measures.